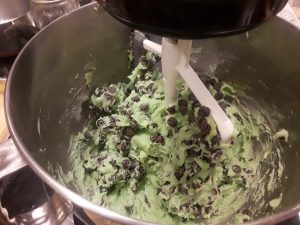 Some of my recipes I imagine and then create – with others I get the flavour idea from some other recipe, glean what I need from it in the way of flavouring and proportions, and then create my own cookie.  Early this month I came across a recipe for Mint Chocolate Chip Cookies – and they looked TASTY!  I instantly thought about this flavour being a cookie square…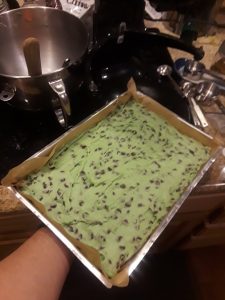 Around the middle of the month I got the opportunity to give it a go – take a look at the results below – it seems this is one of the times I nailed the recipe in the first go.  Here are two other bits of good news…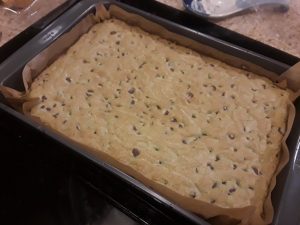 …In simple terms, the way this recipe worked out, I learned more about my base Cookie Square recipe, enabling me to more easily make other flavours I imagine.
…I've already included this recipe in my soon-to-be-published baking book – not only do you get to see them here, but you will have the opportunity to make them yourself!
And how's the book going?  There's still a good chunk of work to do but I'm starting to see the light at the end of the tunnel.  I'm working with an editor — Linda AKA CheckChick.com, who is FANTASTIC — and the writing is better than ever!  My *HOPE* is that the book will be published late-December or early-January.  Keep your eyes here and on the WIBC Facebook page…..